DigitalFUTURES 2020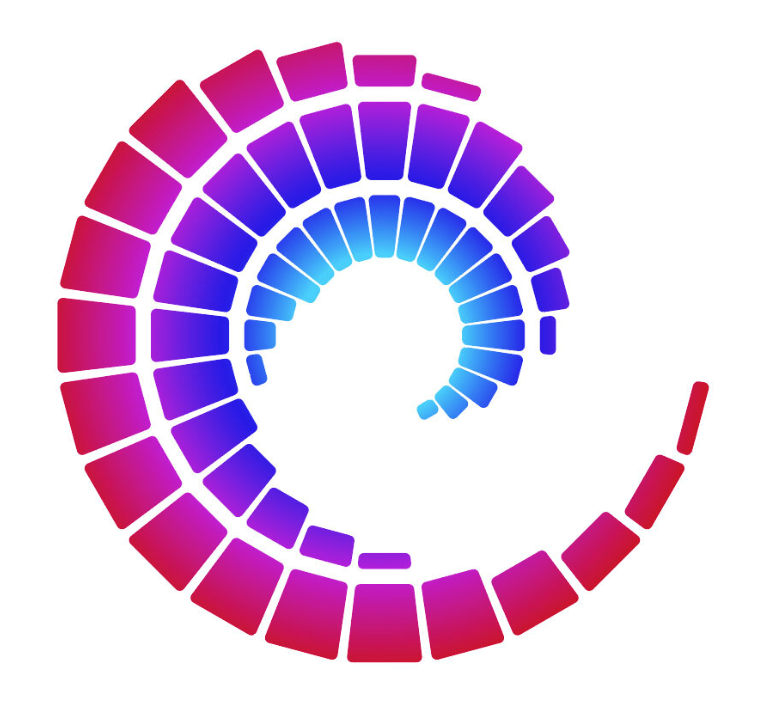 A One Week Series of 24/7 Free Online Workshops & Talks
DigitalFUTURES WORLD:

ARCHITECTS UNITE
27 June-3 July : DigitalFUTURES Workshops & Talks
4-5 July : DigitalFUTURES Special Events


OUR MANIFESTO
We face an uncertain future. Not only is there much uncertainty regarding the virus, but many businesses are also encountering economic challenges. Many of the accepted tenets on which life has been based hitherto have been called into question. Urbanistically, the very notion of the dense city that has been promoted in recent years has been undermined. Will anyone want to live in a city like New York, or will everyone want to flee to the countryside? Will an urbanism of social distancing - so long dismissed as urban sprawl - become the norm?
But the virus has also highlighted the benefits of the digital. Online shopping, zoom meetings, and contactless payment have proved invaluable. Will we ever return to the old days of High Street shopping, physical meetings and cash in our pockets? And what will be the new possibilities afforded by these tools?
This initiative brings together these two themes, the Digital and the Future, to create an online platform for a continuous, week long series of conversations and workshops, exploring every aspect of the potential impact of the digital on our lives. In so doing this initiative itself becomes an example of the new possibilities afforded by the digital.
It is recognized that many of us are now in a state of extreme distress. Financial hardship is everywhere. This initiative calls upon our leading thinkers, designers and technologists to generously give their time as a gesture of solidarity for a world that has suffered collectively. This is a non-profit event that is available for free to audiences across the world. All proceeds will go to charities to support medical professionals battling Covid 19.

Architects Unite will operate as a continuous 24/7 event, broadcast across the different time zones in the world, operating like a relay as each of the 3 time zones passes on the baton to the next time zone. But at the same time it will offer dedicated workshops with a coherent theme and carefully structured schedule taught by some of the most inspirational instructors in the world within each time zone. These workshops will offer instruction not only about the latest technological tools, such as AI, VR and AR, but also about cultural and theoretical aspects of advanced computation. Inserted into this landscape of continuous workshops will be a series of conversations bringing together the leading architects, thinkers and technologists from across the globe often operating in different time zones. These conversations will address the implications of Covid 19 for the future of architecture and urban design. They do not necessarily address anything digital, but they take place on a digital platform. Material generated by this series of events will be posted online as videos as a permanent record of this initiative, freely available to anyone across the globe. Transcripts of the conversations will also be published as a book.
The model proposed is inspired by the LiveAid concerts where musicians come together and donate their time for free for good causes. So too it is inspired by One World: Together at Home, Lady Gaga's recent gesture of bringing some of the leading musicians together in their living rooms, and beaming a message of good will into other living rooms throughout the world.
The model is also inspired by the Olympics, an event that has always sought to transcend political divisions and bring the world together. The 2020 Olympics had to be postponed as a result of the virus. The symbol of the Olympics consists of rings metaphorically bringing together the 5 continents. A meme of these rings being kept apart has been one of enduring images of the impact of the virus. This event seeks to bring the 5 continents back together again, similarly transcending political divisions.
It is time for our leading architects, thinkers and technologists to unite and come together for the benefit of everyone across the globe. It is time to transcend our differences, and set aside our individual interests. One world together.


Application
Application Accepted 06-10 June (12:00pm GMT deadline): Review workshops + apply on each page. For further inquiries please visit https://www.digitalfutures.world/workshops
WORKSHOP ZONES
Asia-Pacific
Tencent Registration Link | 腾讯报名通道(亚太区)
https://wj.qq.com/s2/6475217/99e5/

Europe-MidEast-Africa
North - South Americas
TALKS

Fabricating Hyperobjects
22 May 2020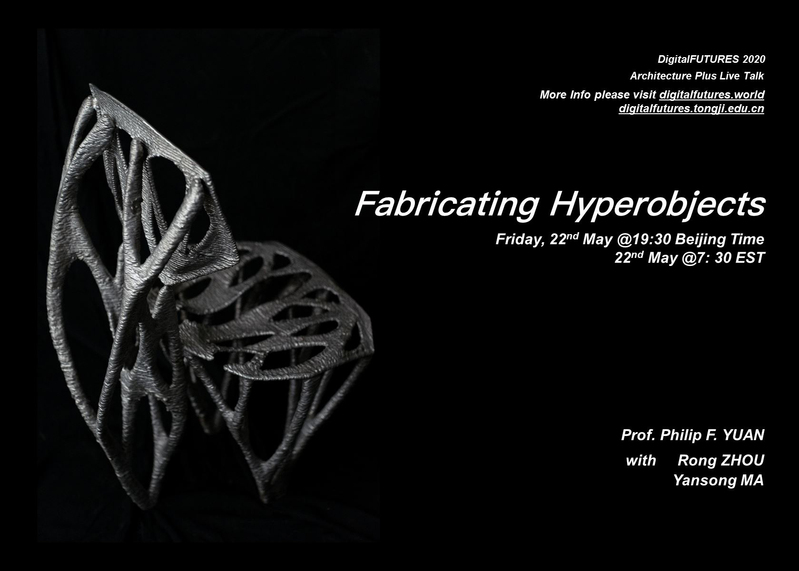 Presented by Philip F. YUAN, with guest speakers Rong ZHOU and Yansong MA
Platform/Media: Architecture Plus
Architectural Conversations in the Age of Covid 19
27 June - 03 July 2020

The purpose of these talks is to address various pressing issues arising for architecture and urban design as a result of the Covid 19 virus. The idea is to seize the opportunities afforded by online communication to bring together architects and thinkers who otherwise might find it difficult to meet. Each conversation will address a different topic relating to issues that arise out of Covid 19.
These conversations are inspired in part by other events that have taken place during the Covid 19 pandemic, such as the rock group Queen coming together in their own respective homes to play a song for the world, and Lady Gaga's One World: Together at Home. They are modeled on the television sitcom, Friends, where a group of friends regularly meet in a living room. Instead of the television beaming the outside world into the living room, here we have architects and thinkers in their living rooms and offices, beaming their message to the outside world.
There will be 22 such conversations each lasting 1 hour. They will take place every 8 hours during the 7 days of the DigitalFUTURES World workshops. The conversations will be divided up into 3 time zones, with each conversation taking place in the prime time of 1 time zone. As a result, everyone around the globe will have access to 2 of these conversations during their waking hours. All conversations, however, will be recorded and posted on the online repository to be viewed later, so that all conversation can be accessed at some time.

Schedule coming soon….
PREVIOUS EVENTS
The DigitalFUTURES summer program of workshops, conferences, exhibitions and publications began with a series of collaborations between the American Academy in China [AAC] and Tongji University thatbegun in 2011. Since then DigitalFUTURES has emerged as one of the largest and most significant summer programs in digital fabrication and computational design in the world. In 2018 DigitalFUTURES is extending this summer program to include an international PhD program, building upon the successes of the previous DigitalFUTURES events
PARTICIPANTS
Those who have participated in the DigitalFUTURES program include Thom Mayne (Morphosis), Ma Yansong (MAD Architects), Philip F Yuan (Tongji), Achim Menges (ICD), Philippe Block (ETH Zurich), NeilLeach (Tongji), Meejin Yoon (MIT), Patrik Schumacher (ZHA), Cristiano Ceccato (ZHA), Shajay Bhooshan (ZHA), Astrid Piber (UN Studio), Rem D Koolhaas (United Nude), Roland Snooks (RMIT), AntoinePicon (Harvard GSD), Panagiotis Michelatos (Harvard GSD), Johannes Braumann (TU Wien), Matias del Campo and Sandra Manninger (UMich), Steven Ma (Xuberance), Yu Lei (Tsinghua), Yan Gao (HKU),Philip Beesley (University of Waterloo), Gang Song (SCUT), Wendong Wang (CAFA), Michael Fox (Cal Poly Pomona), Qingyun Ma (USC), Alvin Huang (USC), Behnaz Farahi (USC), Biayna Bogosian (USC),and Behrokh Khoshnevis (USC).
DIGITALFUTURES PUBLICATIONS
Books that have been published as a result of the DigitalFUTURES initiative include:
Neil Leach, Philip F Yuan (eds.), Scripting the Future, Shanghai: Tongji University Press, 2011

Philip F Yuan, Neil Leach (eds.), Fabricating the Future,Shanghai: Tongji University Press, 2011

Philip F Yuan, Achim Menges, Neil Leach (eds.), Robotic Futures, Shanghai: Tongji University Press, 2015

Philip F Yuan, Neil Leach (eds.), Digital Workshop in China,Shanghai: Tongji University Press, 2013

Philip F Yuan, From Diagrammatic Thinking to Digital Fabrication, Shanghai: Tongji University Press, 2016

Neil Leach, Roland Snooks (eds.), Swarm Intelligence: Architectures of Multi-Agent Systems, Shanghai: TongjiUniversity Press, 2017

Philip F Yuan, Achim Menges, Neil Leach (eds.), Digital Fabrication, Shanghai: Tongji University Press, 2017

Neil Leach, Philip F Yuan (eds.), Computational Design,Shanghai: Tongji University Press, 2017
2019 DigitalFUTURES
Instructors: Philippe Block, Tom Van Mele




Instructors: Achim Menges, Maria Yablonina, Samuel Leder




Instructors: Patrik Schumacher, Shajay Bhooshan




Instructors: Gilles Retsin




Instructors: Yi Min (Mike) Xie, Nic Dingwen Bao, Xin Yan



Instructors: Biayna Bogosian, Runze Zhang, Alessio Grancini




Instructors: Matias del Campo, Sandra Manninger




Instructors: Neil Leach, Claudiu Barsan




Instructors: Hao Zheng




Instructors: Wanyu He, Chun Li, Xiaodi Yang, Jackie Yong




Instructors: Ge Tang, Jixiao Huang, Zongliang Feng




Instructors: Xiang Wang, Philip F. Yuan Shixian Yu




Instructors: Philip F. Yuan, Liming Zhang




Instructors: Philip F. Yuan, Hua Chai, Yige Liu



2018 DigitalFUTURES
Instructors: Patrik Schumacher, Shajay Bhooshan, Taole Chen, Federico Borello, Xuexin Duan




Instructors: Biayna Bogosian, Maider Llaguno-Munitxa, Wei Zang




Instructors: Matias Del Campo, Sandra Manninger




Instructors: Behnaz Farahi, Jifei Ou




Instructors: Wanyu He, Chun Li, Guangyang Nie, Jackie Yong




Instructors: Achim Menges, Tiffany Cheng, Dylan Wood




Instructors: Alessio Erioli




Instructors: Kostas Terzidis, Hyejin Lee




Instructors: Jiong Xu




Instructors: Fangshuo Mo, Philip F. Yuan, Yao Zhao




Instructors: Philip F. Yuan, Hua Chai




Instructors: Philip F. Yuan, Liming Zhang, Zhewen Chen




Instructors: Neil Leach, Xinghua Lu, Chao Yan, Jianjia Zhou




Instructors: Philip F. Yuan, Jiawei Yao, Yuqiong Lin



2017 DigitalFUTURES
Instructors: Philippe Block, Shajay Bhooshan, Vishu Bhooshan, David Reeves




Instructors: Achim Menges, Martin Alvarez, Erik Martinez




Instructors: Behnaz Farahi & Neil Leach




Instructors: Biayna Bogosian, Wei Zang




Instructors: Xiang Wang




Instructors: Wendong Wang




Instructors: Chengyu Sun, Dabo Chen, Xiaoyu Song, Jeff Loomis




Instructors: Philip F. Yuan, Jingyun Zheng, Jiawei Yao




Instructors: Philip F. Yuan, Hao Yin




Instructors: Philip F. Yuan, Gang Meng, Liming Zhang




Instructors: Philip F. Yuan, Gang Meng, Hua Chai



2016 DigitalFUTURES
Instructors: Philip F. Yuan




Instructors: Philip F. Yuan, Hao Meng




Instructors: Philip F. Yuan, Hua Chai




Instructors: Philip F. Yuan




Instructors: Neil Leach, Behnaz Farahi




Instructors: Roland Snooks




Instructors: Matias del Campo & Sandra Manninger



2015 DigitalFUTURES
Instructors: Roland Snooks, Cameron Newnham, Hao Meng




Instructors: Matias del Campo & Sandra Manninger




Instructors: Weiguo Xu, Lei Yu, Ali Gharakhani




Instructors: Johannes Braumann, Daniel Goldbach, Elisa Lublasser




Instructors: Roland Snooks




Instructors: Philip F. Yuan




Instructors: Zhenfei Wang, Luming Wang, Cong Gao




Instructors: Yan Gao, Tiantian Lo




Instructors: Zhenfei Wang, Luming Wang, Cong Gao




Instructors: Huayin Zhong, Xin Yuan




Instructors: Achim Menges, Abel Groemewolt, Oliver David Krieg, Mingjian Huang




Instructors: Rem D. Koolhas, Steven Ma, Michal Kukucka, Xichen Zhao, Christos Koukis, Himmel Wang, Tianhao Lou, Thomas Bagnoli



2014 DigitalFUTURES
Instructors: Philip F. Yuan, Hyde Meng, Panagiotis Michalatos




Instructors: Panagiotis Michalatos, Qi Su




Instructors: Lei Yu




Instructors: Yunsheng Su




Instructors: Philip F. Yuan, Panagiotis Michalatos




Instructors: Philip F. Yuan, Panagiotis Michalatos




Instructors: Philip F. Yuan, Matias del Campo & Sandra Manninger




Instructors: Philip F. YUAN, Yihe Ma, Zhun Zhang, Alex Han, Junchao Shen, Hyde MENG, Kai Li



2013 DigitalFUTURES
Instructors: Philip F. YUAN, Qi Su




Instructors: Philip F. Yuan, Matias del Campo & Sandra Manninger




Instructors: Philip F. Yuan, Neil Leach, Qi Su, Biayna Bogosian



2012 DigitalFUTURES
Instructors: Philip F. YUAN, Chengyu Sun




Instructors: Neil Leach, Weiyu Huo, Alvin Huang




Instructors: Philip F. Yuan, Neil Leach, Michael Fox, Weiyu Huo, Alvin Huang



2011 DigitalFUTURES
Instructors: Philip F. Yuan




Instructors: Philip F. Yuan




Instructors: Roland Snooks




Instructors: Neil Leach, Gang Song




Instructors: Roland Snooks




Instructors: Philip F. Yuan




Instructors: Evan Douglis, Philip F. Yuan




Instructors: Neil Leach, Gang Song